Webinar: Gotcha Covered: Strategies for Effective and Efficient Searches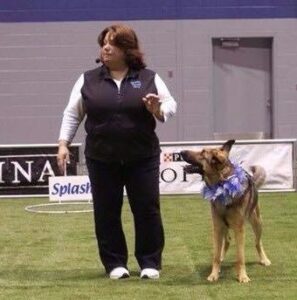 INSTRUCTOR: Nancy Reyes CNWI
DATE: Thursday, January 21st, 2021
TIME: 10:00am – 11:30am Pacific Standard Time
WEBINAR DESCRIPTION: Figuring out how cover your search area and teaching your student to do the same while keeping the search dog driven can be a challenge. This talk will discuss how to make those decisions before and during searches.  How to get the most out of your walkthrough whether it's in person or virtual utilizing your learning style.  We will look at what is required by level and investigate some strategies to help teams make good choices in navigating the search.
COST: $30 for CNWI, ANWI, PNWI
(NOTE: If you are an active instructor, please register through the instructor portal (see instructions below).
CEUs: 3 for CNWI
CPDT CEUs: N/A
ABOUT NANCY REYES: Read more about Nancy at: https://foryourk9.com/about/team/nancy-reyes/
LIVE WEBINAR LINK:
For those who register at least 48 hours before the live webinar: Links will go out the 1-2 days before the webinar. If you do not have the link on the morning of the webinar, please email registrations@k9nosework.com. You must register at least 48 hours prior to live time to join the live webinar. (If you registered within 48 hours of the event we will do our best to get you the live link before the start, but it may not always be possible.)
For those who register after the live webinar: All webinars purchased after the running of the live event will have links sent out weekly.
REGISTRATION PROCESS FOR PNWI, ANWI and CNWI ONLY:
1) To register for the webinar, please log on to the new Instructor/Education website: education.k9nosework.com/login
** NOTE: All PNWI/ANWI/CNWI already have accounts in the new Education website. If you do not know how to log in, please contact educationadmin@k9nosework.com.
2) Once you are logged on to the Education website, click on the "Course Catalog" tab within your Instructor Portal, and select this webinar from the list of available courses.
3) Once you are on the webinar page, click the "Register" button.
4) Within 24 hours, you will receive a PayPal invoice via email for the registration fee. You do not need a PayPal account; you may pay with a credit card instead. Please pay the invoice as soon as possible. You will not receive a webinar link if you have not paid.