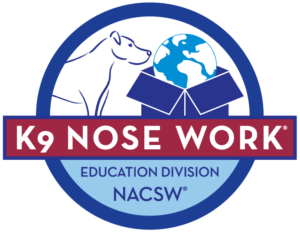 NACSW® Education Division
K9 Nose Work® Training Fest West Coast
October 15-17, 2021
Stoneridge Christian School
2738 Dan Ward Road
Merced, CA 95348
Cost:
$450 for the weekend (limited spaces available)
$225 for auditing (limited spaces available)
Steps for registrations:
Preliminary registration completion (submit form below).

Due to limited space, working spots will be awarded by random draw from all registrations received by 5:00 PM, PST on Monday, 9/13/21.
Draw will take place Tuesday by 8:00PM (the draw will be for working spots. If necessary, a 2nd draw will be done for auditing spots)
A wait list will be maintained for both working and auditing.
Acceptance will be confirmed by email and an invoice will be sent (you'll have 24 hours to process payment to hold your spot).
Once payment is received, you'll receive a questionnaire to collect information about you and your dog.
Group assignments will be determined on a variety of factors (including but not limited to, title level, years of training, handler experience, etc.).
The focus of this 2-day training event will be on skill development and application across environments.
Event Faculty are:
Group information:
Groups will consist of eight teams (handler/dog)
Each day the teams will work in four search areas

Teams will work with each instructor twice.

Groups may be mixed level (but will be organized based on survey responses about experience.)

Instructors will use their many years of experience working with Nose Work teams to adjust exercises as necessary based on experience level and real time observations.

Searches will emphasize interiors and exteriors but may touch on the all the elements.

Instructors will discuss strategy and technique for search optimization from entry level to elite level and everything in-between

Auditors will have flexibility to float from group to group (unless the search area precludes spectators due to space or other concerns)
October 15, 2021
3:00pm – 5:00pm Check in and Registration
5:30pm – 7:30pm Weekend overview, orientation, and Q/A with Instructors
October 16 & 17
8:30AM – 10:00AM First daily session
10:00AM – 10:30AM Move to next session
10:30AM – 12:00PM Second daily session
12:00PM – 1:00PM Lunch (on your own, bring your own lunch)
1:00PM – 1:15PM Move to third session
1:15PM – 2:45PM Third daily session
2:45PM – 3:15PM Move to last daily session
3:15PM – 4:45PM Fourth Session
4:45PM – 5:00PM End of day wrap up
(Schedule subject to adjustment as necessary)
Information about the location and general event details:
Stoneridge Christian School is a working high school dedicated to providing opportunities for their students to learn and grow. Students from the school may be participating in the event logistics and observing searches. This will provide a great experience for competitive teams to have exposure to spectators while working. The students will receive clear instruction about the parameters and protocols for training in advance of registration.

Prerequisites:
All dogs must be on all three NACSW odors (Birch, Anise and Clove)
All dogs must be able to be crated inside or outside of their vehicle without disturbing other dogs
Recommended equipment:
Participants will need to bring a mobile crate to use in certain search areas (car crating may or may not be available for your assigned searches.) Handlers will be responsible for moving their own equipment between search areas.

Visual barriers

crate cover

shade clothes

Food and/or toys

Six-foot leash (dogs must be on a 6 foot or shorter leash when not actively in a supervised search)

Other leashes or lines for use during supervised training sessions
RV parking (dry camping only) will be permitted on school grounds. Advanced notice of intent to bring a trailer required. Limited space available.
All participants must be fully vaccinated for COVID-19. Proof of vaccination will be required with registration. NACSW will comply with all state mandated guidelines in place at the time of event.
Masks will be required indoors (and may be required outdoors while in groups depending on current community health situation as well as local and state regulations)
Preliminary Registration Form:
Workshop is closed for submissions but you may sign up for the wait list below.